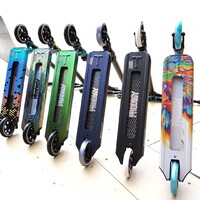 NEW 2022 Envy Prodigy S9 Series 9 Complete Scooters
Author: Scooter Village Date Posted: 1 November 2021
Welcome to The NEW 2022 range of Envy Prodigy Series 9 Complete Scooters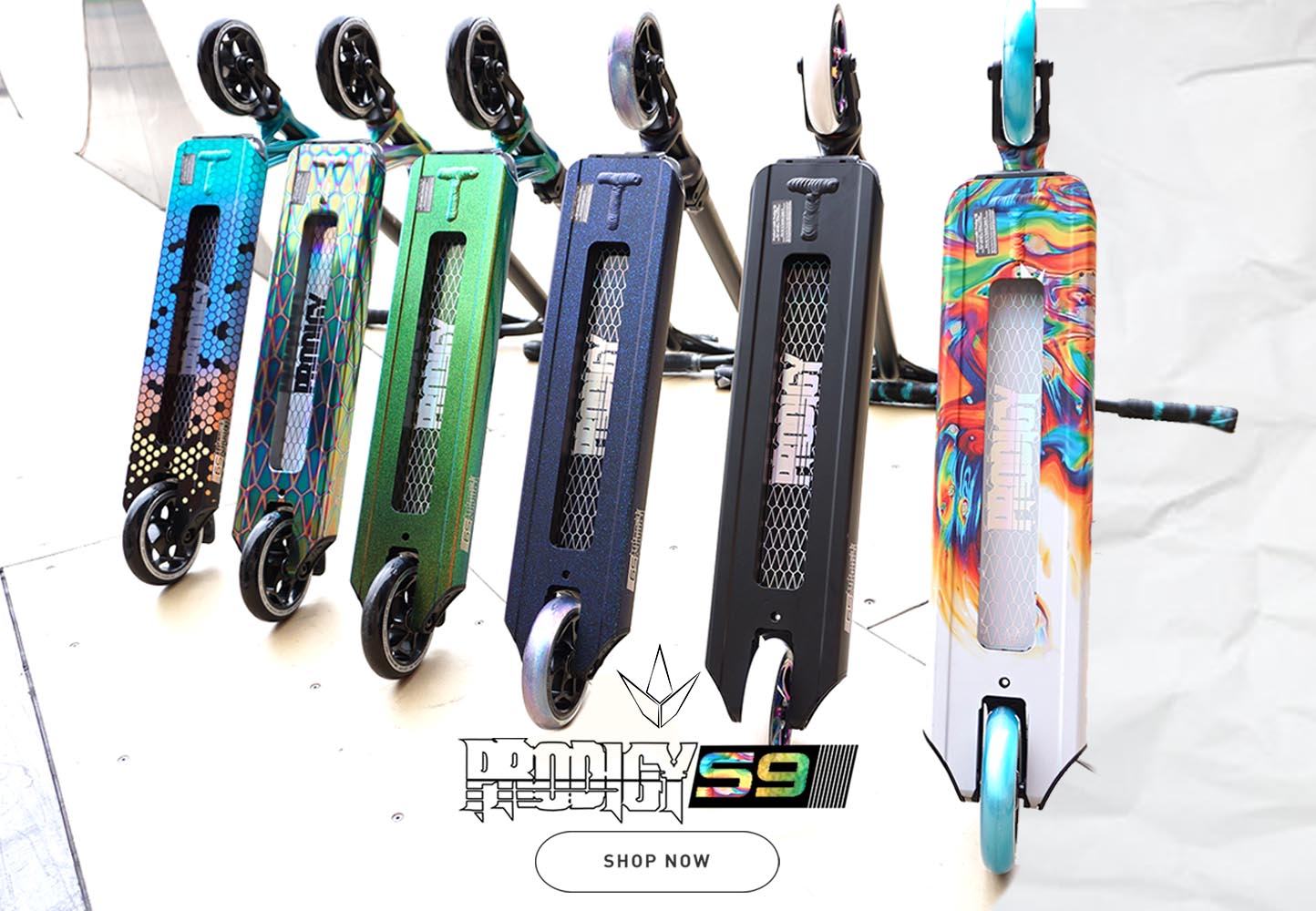 Welcome to The NEW 2022 range of Envy Prodigy Series 9 Complete Scooters
Here's what you need to know:
2022 Range of 6 colour ways include Black/Oil Slick, Hex, Galaxy, Toxic, Oil Slick & Swirl.

NEW 6 Series Aluminium Forged Diamond IHC fork- Compatible up to 125 x 30mm wheels.

Scooter dimensions – Total Height: 880mm, Total Length: 690mm and Foot Space: 340mm

NEW classic Prodigy Clamp with 6mm bolts (Oversized),

High quality Envy grip tape, and durable bolt on Nylon Brake System with Nylon front plate and rear inserts.

HIGH DENSITY Aluminium Reaper Style bars – Height: 620mm high x 560mm wide (including Bar Ends)
This year Envy have kept 2 previous colourways & introduced us to 4 new complete Prodigy scooters
Oil Slick and Swirl stay & NEW colourways: Black/Oil Slick, Galaxy, Hex, and Toxic.
The Prodigy 6061-T6 Aluminium deck with a base cut out is innovatively designed to reduce weight and maintain ultimate performance, whilst also being topped off in premium finishes. The deck includes high quality grip tape and durable components - nylon front plate, rear inserts and nylon brake systems. Topping the scooter for Series 9 is the high density aluminium Reaper style bars wrapped in a Two Bolt 6061 Aluminium oversized clamp and TPR Hand Grips. This complete scooter is rolling on 120mm x 24mm GAP core wheels with the best 86a grade Polyurethane and ABEC 9 bearings. The Alu Diamond IHC Forks are compatible with up to 125mm x 30mm wheels. See our full dimension specifications below:
Envy Prodigy S9 Series 9 Black/Oil Slick Complete Scooter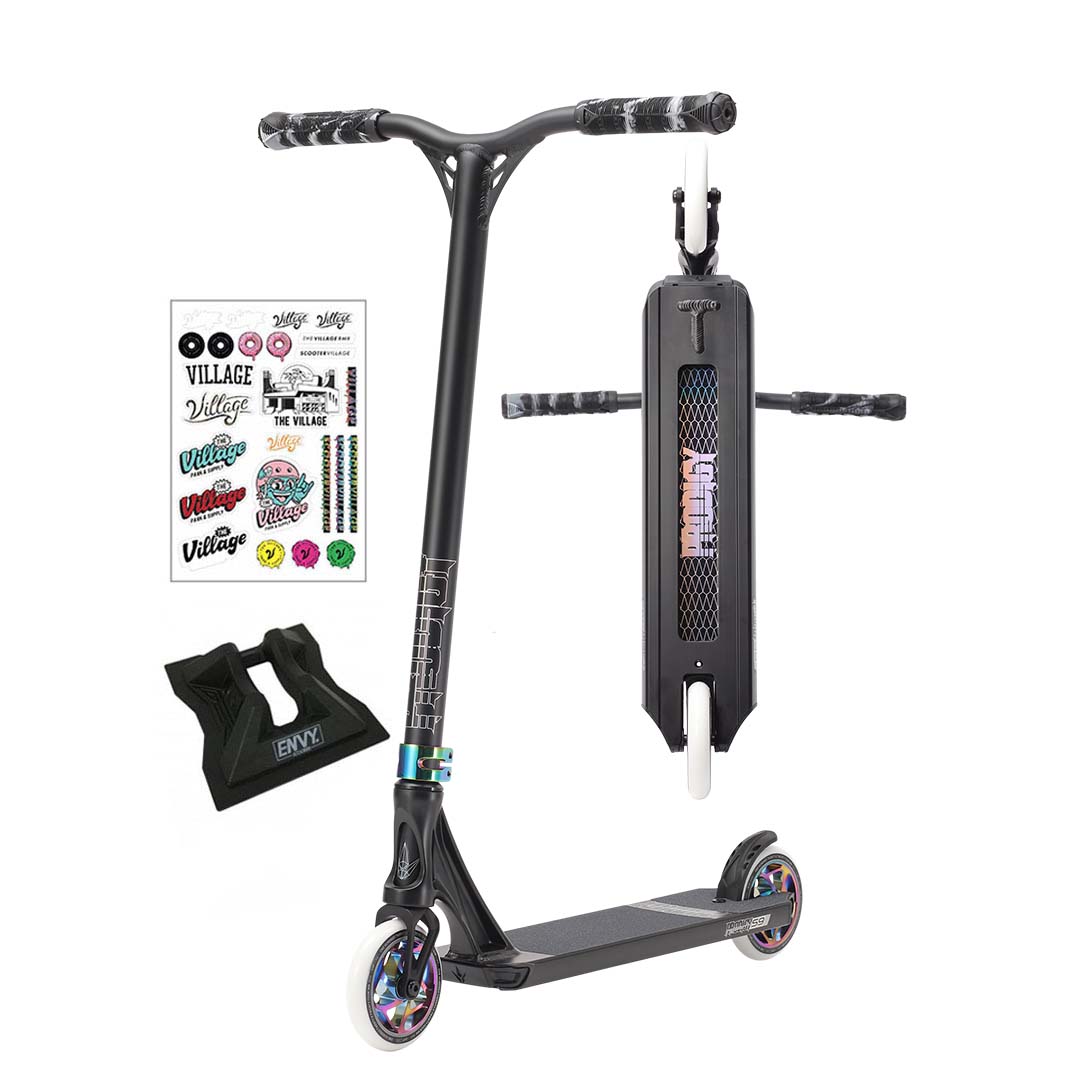 Envy Prodigy S9 Series 9 Galaxy Complete Scooter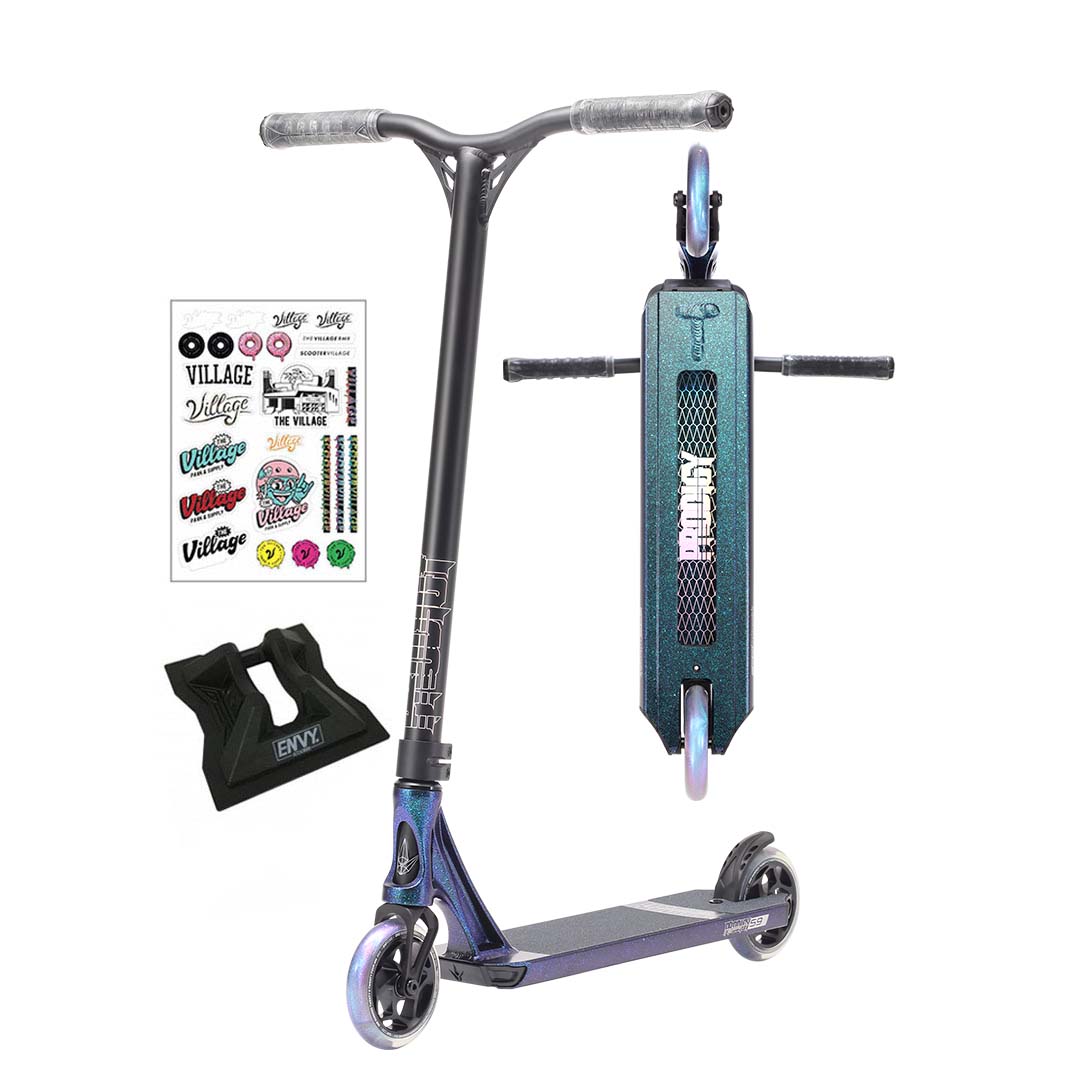 Envy Prodigy S9 Series 9 Hex Complete Scooter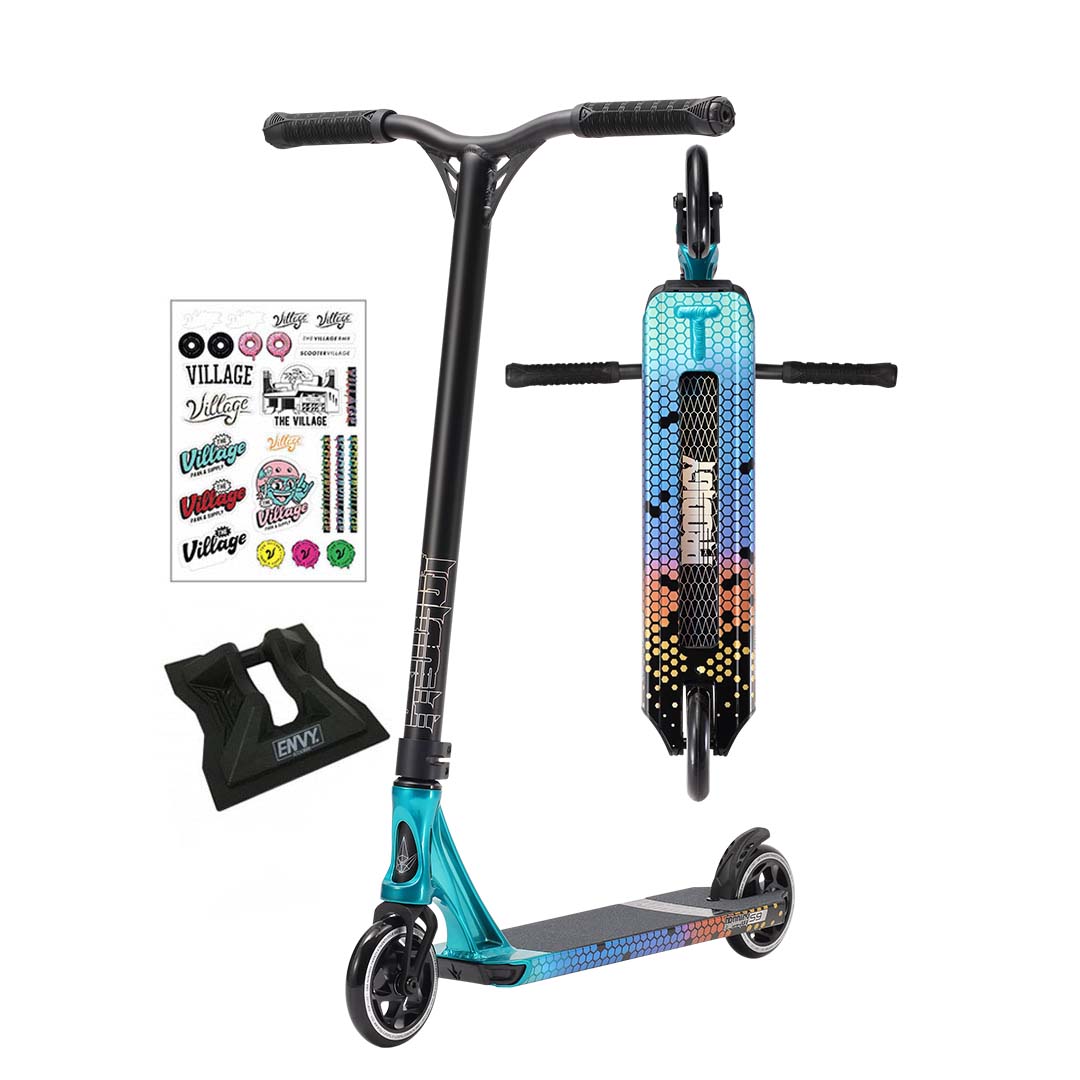 Envy Prodigy S9 Series 9 Toxic Complete Scooter
FULL 2022 ENVY PRODIGY COMPLETE SCOOTER SPECIFICATIONS
DECK

PRODIGY DECK 495mm/19.5" LONG- 120mm/4.75" WIDE- 82.5° HEAD TUBE ANGLE. FRONT AND REAR NYLON INSERTS

BARS

HIGH DENSITY ALU REAPER V2 BAR -620MM/24.4" HIGH- 560MM/22" WIDE

FORK

DIAMOND 6061 ALU IHC FORKS- UP TO 30MM X125MM COMPATIBLE

GRIPS

160MM LONG TPR HANDGRIPS WITH NYLON BAR ENDS

CLAMP

2 BOLT 6061 STANDARD ALU CLAMP- 6MM BOLTS

WHEELS

120MM X 24MM 86A PU GAP CORE WHEELS

BRAKE

NYLON BOLT ON BRAKE
5MM BRAKE BOLT

WEIGHT

3.5kgs/ 7.7 pounds

GRIP TAPE

HIGH QUALITY 2 PIECE GRIPTAPE

FOOT SPACE

345mm/13.5"

TOTAL HEIGHT

880mm/34.6"

TOTAL LENGTH

690mm/27.1"
The full range of 2022 Envy Prodigy scooters are now available for FREE Australia & wide NZ delivery & bonus gifts - Envy Scooter Stand & Village Sticker Sheet .
CLICK to SHOP 2022 ENVY PRODIGY SCOOTERS